 Learn More About Jean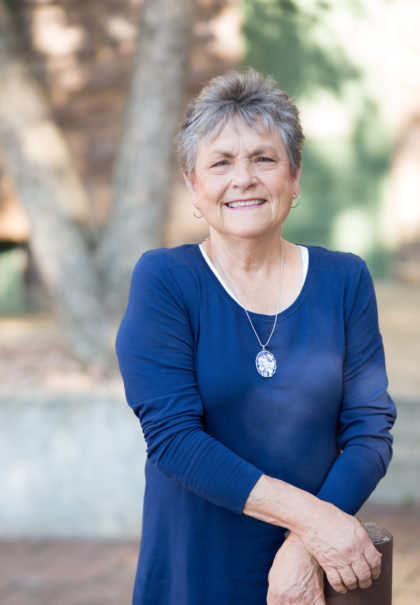 Meet Volunteer Advocate, Jean Beddow.
Why did you become a CASA advocate?
Twenty years ago I made a very specific decision to become a CASA advocate. I had just moved back to Sioux Falls and felt deeply that I needed to concentrate my efforts in a couple areas. I knew I wanted to work 'hands on' on issues I cared about. At that time, I knew little to nothing about child abuse and neglect, and one of my continuing regrets is that in every community, most citizens remain blissfully unaware of this dark world many children and families inhabit. I started as a CASA because my political and personal leanings demand I contribute and 'do something' to make a difference. Today, I am more aware than ever of societal and familial dysfunction, and my efforts are minuscule in comparison to looming vicious cycles of drug and alcohol abuse, mental illness, poverty, and ignorance. But this is what I can do for one group of kids at a time.
How do you balance volunteering with your career/personal life?
I am fortunate that balancing volunteering with my personal life is not difficult since I am happily retired. I cannot imagine engaging with important CASA volunteer work and holding full-time employment at the same time. There are no shortcuts to serving as an effective CASA, so at stressful times in CASA cases – especially when I'm writing a court report (!!)– the hours mount up. The volunteers who juggle employment or young families with CASA volunteering have my deepest respect. At times I certainly do stretch myself as cases grow more demanding or as a Court report looms, but each case is a priority, and kids can't wait.
What was a moment that you realized that you/CASAs do make a difference?
Perhaps it's not so much a specific moment that has made me aware of our important role, but over the years, I've compiled a growing understanding of what our role can mean to children, to Child Protection staff, and to the legal process. Certainly, there are moments that bring home the gravity of dealing with children's lives and futures. When a Judge or States' Attorney quotes from and asks questions directly from the CASA report or when a 15-year-old girl who is isolated from the rest of her family walks with me and asks important questions, I realize it makes a difference. When I uncover vital information that ensures decisions will be made in the children's best interest and when a mother calls me 5 years after guardianship was awarded to her parents and says, "Jean, I've got my act together! How do I get my kids back?!", I know serving as a CASA matters.
After 20 years, I simply know that if it were not for our presence in child abuse and neglect cases, the court would not, in many cases, have adequate, informed, compassionate information about what is in the best interest of our kids.
What advice would you have for new CASAs?
Over the years I've given so much advice to new CASAs – I'm predictable!! Perhaps my overriding piece of advice is – don't even think of entering this world if you can't make advocating for these kids a priority! Put your own feelings about abuse and neglect aside and concentrate objectively and fully on the kids. You cannot and should not involve yourself in a legal matter of this import unless you understand this basic premise.