 We are CASA: Meet Ann Henkhaus
April 23, 2023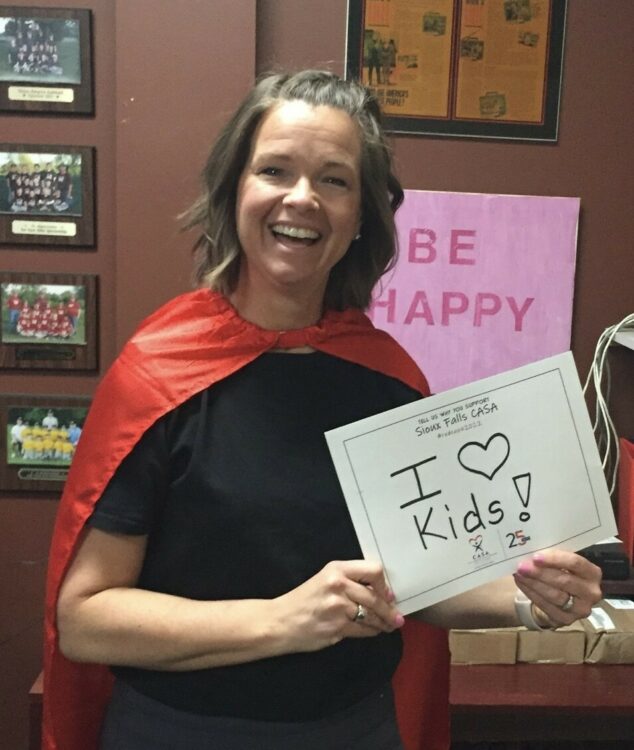 Meet Sioux Falls CASA Volunteer, Ann Henkhaus!
First, tell us a little about yourself! I grew up in Eastern Iowa, went to college in Minnesota and moved to Sioux Falls following my heart. My husband and I have been married for nearly 30 years and are parents to 4 children who are now entering adulthood. I worked as a teacher and an elementary school counselor for the duration of my career, but when our own kids entered middle school and high school ages, things got very busy around our house and we made the decision that it would be best to have one parent at home full time.

Now, several years later, all but one have left the house for work or college and I have more time on my hands for working out, community theatre and volunteering.
When did you first hear about Sioux Falls CASA? I knew about CASA from my work as a school counselor, however after I retired I learned that two friends had started volunteering for CASA. I asked them lots of questions and started to feel that it might be something that would fit my skills, talents and desire to do something really worthwhile with my time.
What about Sioux Falls CASA's mission made you want to join the team? I have always loved working with kids and families. In raising my own children and working with so many others, I learned over the years that no family is perfect. We all have our struggles. Having someone to help and support during those times of trial is so beneficial. I wanted to be part of that process for families who might be going through a difficult time and give them hope that something better is possible.
What advice would you have for someone looking to get involved with Sioux Falls CASA? I think the most important quality for a volunteer to have is curiosity. If you can be open minded, open hearted and get really curious about families and how they came to be in their situation, you can meet them where they are at and support them to begin seeing hope and making the next right decision.
Want to get involved? Visit our volunteer page!
How would you describe Sioux Falls CASA in one word?
Hopeful.